Guide to Sourcing Data Management Consulting & Visualization Services
In this guide we discuss what data management consists of, how to hire a data management consultant, how to work with a consultant to visualize your data, and more!

What is Data Management?
Over the past couple of decades, we have seen an increasing relevance of data in business operations. Today, data has become so ubiquitous that no business, big or small, can claim to function without the need to maintain a data management system.
Data is recorded for varied purposes, some of which are listed below:
Analytics: Businesses are constantly having to make decisions, like when to buy, whom to sell to, etc. Recording the data helps businesses to remove the guesswork and enable them to make informed decisions.
Reporting: This is the primary reason why businesses record data. Recording data helps businesses keep track of information such as knowing the level of inventory, dues to be paid to vendors, dues to be collected from customers, etc.
Regulatory: The authorities need to know the earnings of the business in order to levy taxes or grant exemptions. Thus, it mandates businesses to maintain data for easy flow of information.
Most businesses don't have the necessary data management capabilities. They can develop these capabilities in-house by hiring people with the required skillset, or they can outsource to data management consultancies specializing in providing these services, or they can do a combination of both.
There are different operational challenges when choosing one option over the other, but the objective of both paths remains the same: to enable the organization to build analytical capabilities that can lead to actionable insights.

What Data Management Consulting Looks Like
A data management consultant is an SME (Subject Matter Expert), passing on the best practices of data management for the industry your business is operating in.
A data management consultant can use their expertise to assess an organization's current data stack, provide information on best practices around data, and give recommendations on potential tools and strategies that can be implemented.
Additionally, as people from functional backgrounds often have a harder time effectively communicating with folks from technical backgrounds, the role of a data management consultant becomes all the more important in enabling the free flow of information and collaboration between business and IT.
If you interested in a career in data management, take a look at this article below:


The Role & Types of Data Management Service Providers
First, the data management consultant will work with the business to develop a data strategy roadmap of how data is collected, maintained, and consumed over the long term.
These data management service providers have roles and responsibilities similar to in-house experts like data engineers or data analysts; the one major difference being that they would primarily work for a client as a 3rd party service provider and often have a portfolio of clients.
The following is the expertise a data management service provider should have in order to effectively help an organization meet all its data needs:
Data Architecture: This involves designing the company's overall data ecosystem and creating data governance policies for statutory and regulatory purposes. This includes determining how and where to record, store, and retrieve the data. It also involves understanding the company's current data needs and how these needs will evolve over time. Thus, much time is spent here so that the organization doesn't face major issues in the long run.
Data Engineering: This involves building the infrastructure designed by the data architect to support the organization's data requirements. In other words, it requires building and optimizing data pipelines and designing ETL (Extract, Transform, Load) or ELT (Extract, Load, Transform) processes. The main responsibility is to make data accessible for analysts and other stakeholders.
Database Administration: This involves maintaining and securing databases. It ensures the organization adheres to data governance policies mandated by statutory and regulatory requirements. It also involves monitoring and troubleshooting any issues that arise during the backup process.
Data Analytics: This involves generating actionable insights that can enhance the decision-making process. This can be done by creating various machine learning models, reporting, analytical dashboards, and any other ad hoc statistical analysis.
The above four broad categories are further divided into various subcategories as follows:
Formulating a data strategy roadmap is not an easy task, especially if your organization lacks analytics expertise. Working with an experienced data consultancy, such as Zuar, can make the process much quicker and easier. Click here to learn more about Zuar's data services!

What Does a Data Visualization Expert Do?
A data visualization analyst is a kind of data analyst who transforms data into charts and graphs that can be quickly internalized by relevant stakeholders to make data-driven decisions.
Typically, the responsibility of data extraction and data wrangling is on either the data engineer or another data analyst like a financial or marketing analyst.
Consequently, a data visualization analyst should work closely with a data engineer or the upstream analyst who hands over the data for visualization.
This collaboration ensures that the data visualization analyst has an in-depth understanding of the important and relevant data points that the dashboard users would be interested in.
The data visualization analyst should also have a good understanding of graphic design and an eye for visual appeal, which they can leverage to produce high-quality dashboards.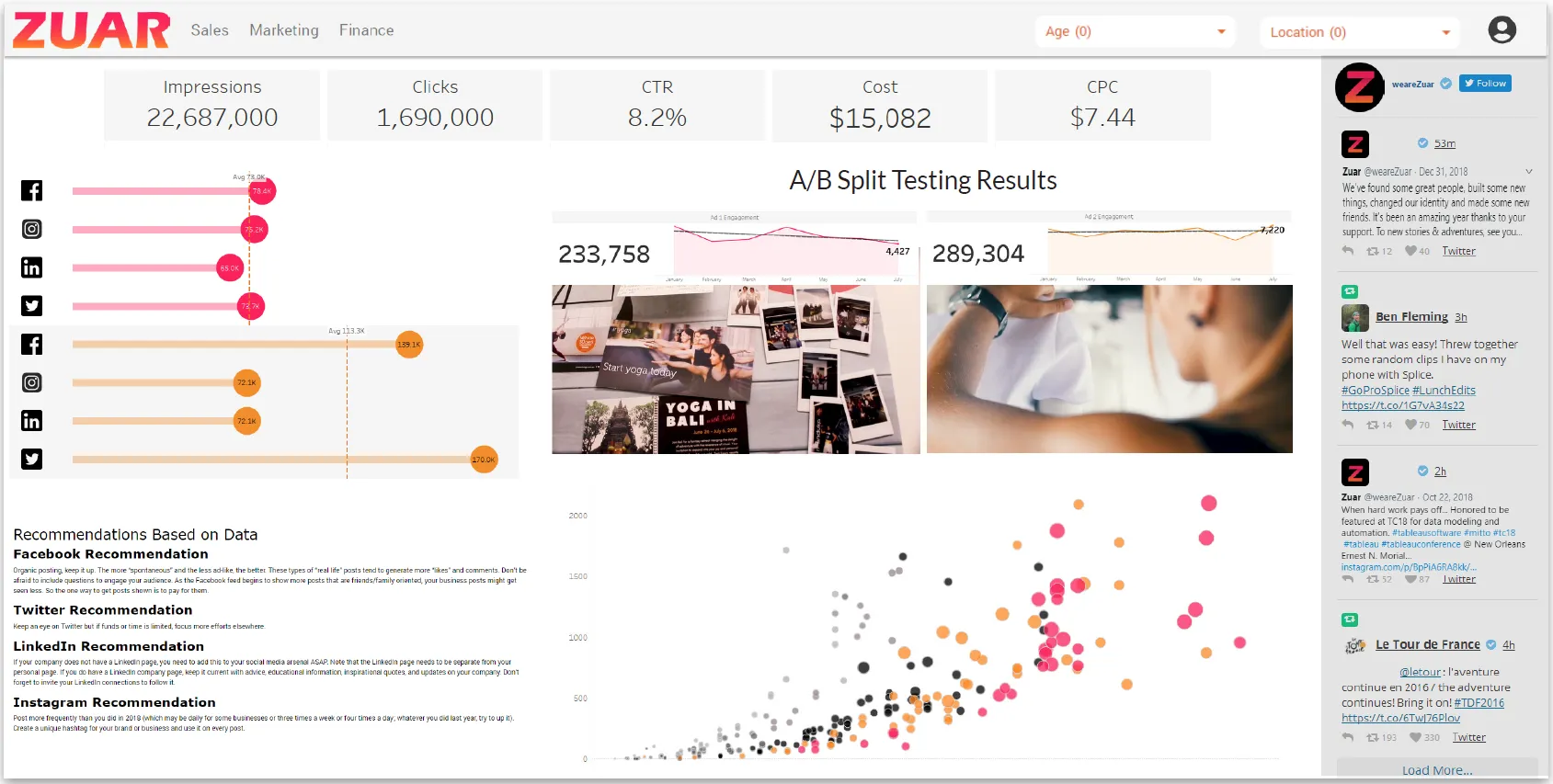 Alternatively, data visualization can be done by a financial analyst, business intelligence analyst, etc. who understands data better than anyone in the organization, and thereby have an intricate knowledge of important data points.
But here's the rub. Internally-made dashboards are rarely as compelling as those made by 3rd-party data visualization consultancies. Nor can internal teams produce advanced dashboards as quickly and efficiently as outside experts. Why? Because the outside experts do this work day in and day out. They've made hundreds of dashboards of all types, and can bring ideas to the table that internal teams might not even consider.
Increasingly, embedded analytics has become an important aspect of data visualization. Embedded analytics refers to the integration of data visualization into other software applications such as business intelligence tools, customer relationship management systems, and dedicated websites/portals.
Embedded analytics are important because they enable users to make data-driven decisions within the context of their daily workflows, improving efficiency and productivity.
For a robust embedded analytics solution, Zuar Portals are an amazing option. These data portals can be set up quickly to provide both internal and external stakeholders with tailored analytical insights. Click here to learn more.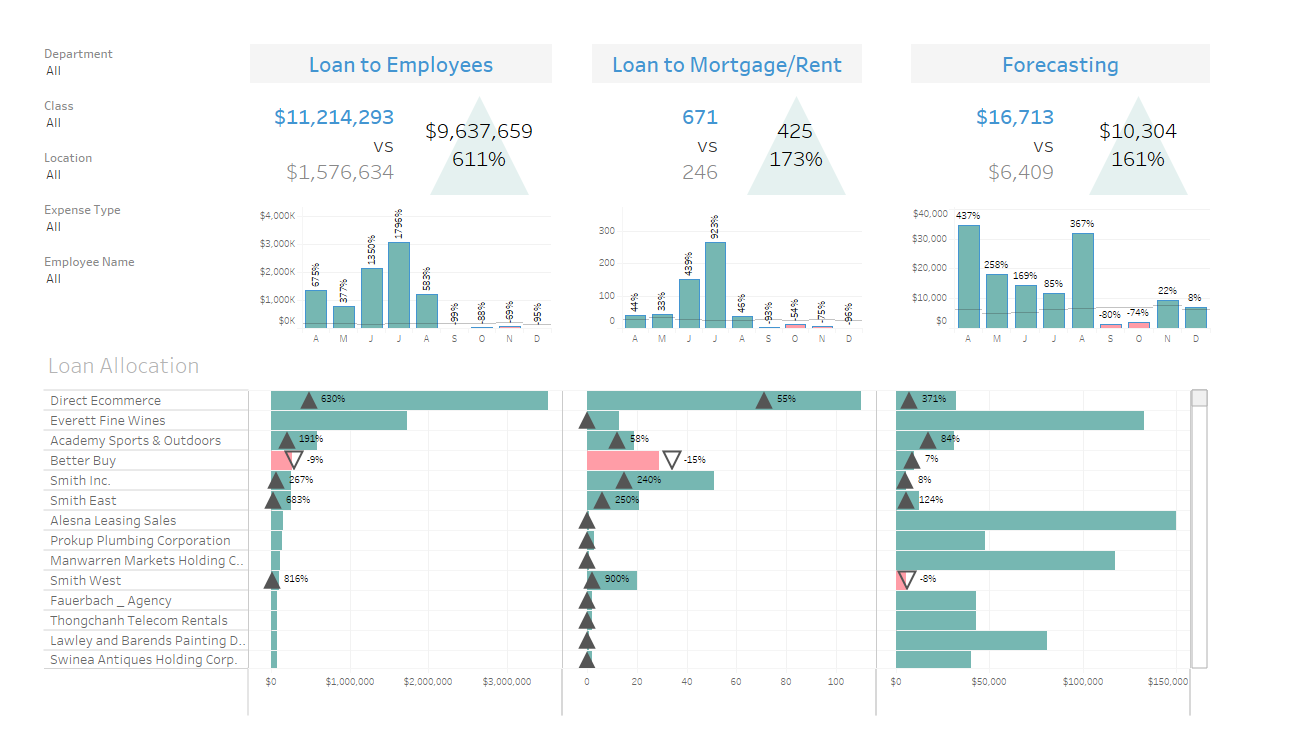 Building a Future-Proof Data Architecture
Effective business analytics consulting necessitates developing a data roadmap that not only addresses the business's current data needs but also takes into consideration how the business's needs will expand over time with higher data literacy and greater reliance on data in the decision-making process within the organization.
The ability to accurately foresee what kind of data management an organization might need separates good data consulting services from the rest.
However, it is also true that the needs of all businesses are very dynamic and even a good data management consultant may not be able to predict the data needs of the business a few years down the line with 100% accuracy.
Thankfully, the data industry has been in a collaborative mode for the past few years, and most of the tools and technologies developed by major players today can integrate seamlessly with each other. This has made the jobs of data architects relatively easier, and enabled them to focus more on building systems that can empower more people to consume data with ease and encourage an organizational culture that makes data-driven decisions.

Hiring Data Management & Visualization Consultants
Finding the right data management and/or visualization consultant is the key to a successful, long-term data strategy.
Our team at Zuar has both the tools and expertise to help you create a data roadmap, build a scalable data pipeline, and visualize your data through easily digestible dashboards enabling you to maximize the value of your data. Zuar also offers unparalleled long-term support so your data solutions can grow and evolve with your business.
The first step is to chat with one of Zuar's data specialists. We can discuss what your organization's needs are, what your current set-up is, what your options are, etc. We can provide details on how long a project like yours takes, and what the coss are. Visit the link below for more information. We would love to help!